Pinnacle Cup: Malta Vibes #3 brings even more hot Dota 2 with a new format unveiled
Eden Esports, in collaboration with GamingMalta and Pinnacle Esports, is pleased to present the third installment of the Pinnacle Cup: Malta Vibes series set to take place September 6-17, breathing the Velvet season energy into the first Dota 2 tournament of the upcoming autumn.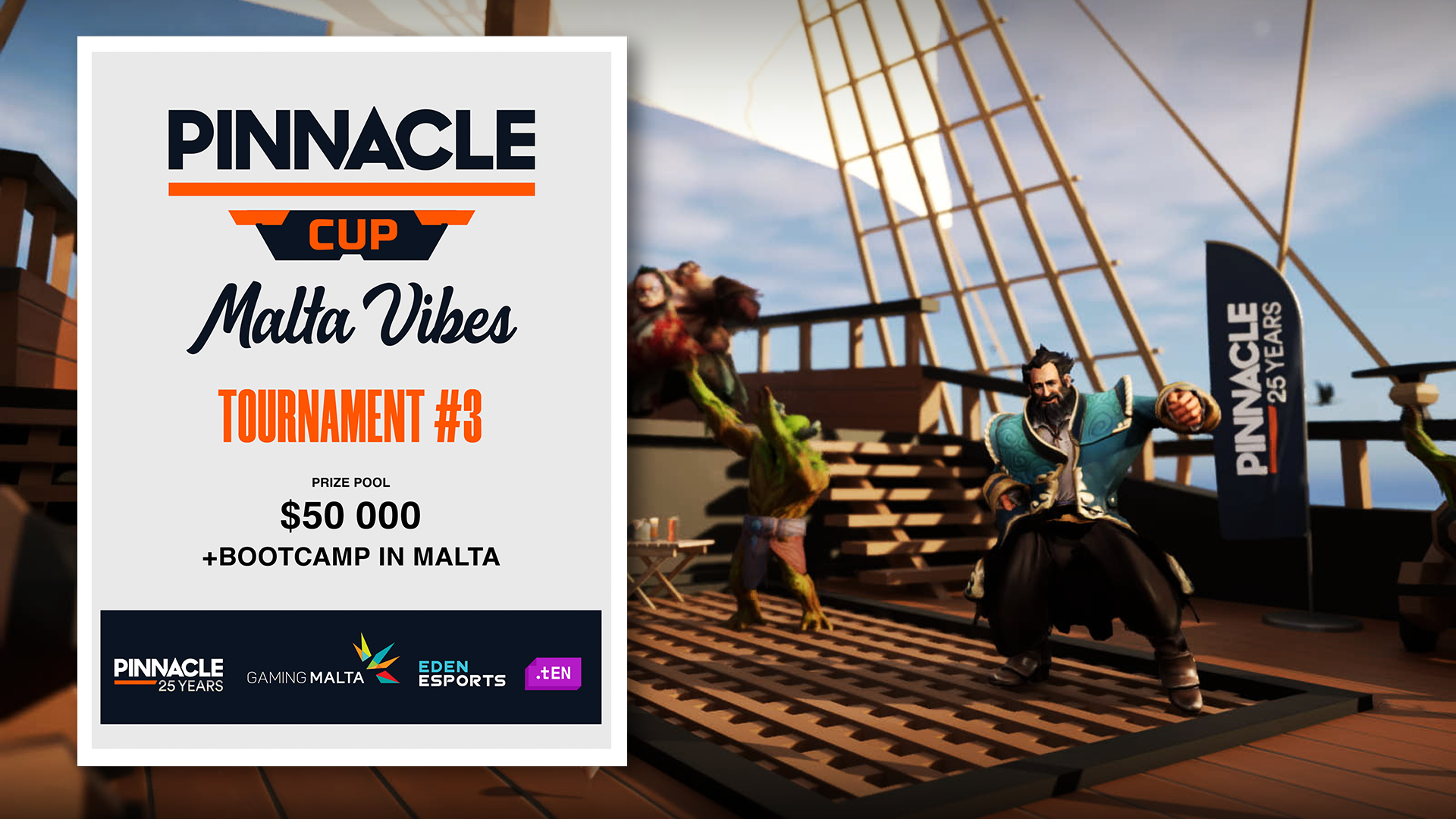 This time, the tournament introduces a new format that departs from tradition. The Pinnacle Cup: Malta Vibes #3 will feature a classic Group Stage – Playoffs system designed to give each team enough chances to shine in the spotlight. With the number of participants being reduced to 16 teams in total, the event will keep its $50,000 prize pool, thus raising the stakes of each game.
The Group Stage kicks in, seeding 12 teams into two Round Robin groups, competing in a series of fiercely contested Best-of-Three matches. This group stage will serve as a proving ground, where teams will unveil their skills and battle for supremacy.
As the Group Stage concludes, the top two teams from each group will advance straight to the Single Elimination Quarterfinals, skipping the first round of Playoff matches as a testament to their commitment and consistent performance.
Meanwhile, each group's 3rd and 4th ranking teams will advance to the first playoff round – the Deciders, where they will face another four invited teams.
The tournament's grand finale will unfold in a Best-of-Five format, where the ultimate champions will emerge to grasp their lion's share of the prize pool and tickets for Bootcamp in Malta.
GRID Esports will once again serve as the official data partner for the event, providing support for all of Pinnacle's content across all data use cases.
Once again, it's time to set notifications on September 6 and never miss the first matches of the Pinnacle Cup: Malta Vibes #3 go LIVE on Twitch. Follow us on Twitter to get quick updates and news regarding the tournament.
About Pinnacle
Pinnacle has been offering bettors a unique alternative to other bookmakers since 1998. Since 2010, Pinnacle has played a pioneering role in the growth and development of esports wagering options, as demonstrated most recently with the creation of the Pinnacle Cups in 2021 and its continued growth into 2023.
About Gaming Malta
GamingMalta is an independent non-profit foundation established by the Government of Malta and the Malta Gaming Authority (MGA). Tasked with the remit of promoting Malta as a center of excellence in the digital and remote gaming sector globally, it is also responsible for liaising with the relevant local authorities to improve Malta's attractiveness as a jurisdiction and enhance the ecosystem surrounding the gaming industry.